Paper Tablecloth
Paper tablecloths are essential to protect and decorate the table quickly, comfortably and cleanly. Are you preparing an event and need single-use tablecloths with character? At MonoUso we have a wide range of disposable tablecloths that will surprise all your guests. Although their function is to protect furniture, usability does not have to be at odds with chic. These accessories have their own personality and can be the highlight of your store, breaking the rules. If you want to find the coolest tablecloths on the Internet, here you have waterproof, individual, paper roll or cut tablecloths. Which one fits your style best? We offer you disposable tablecloths for all uses. Choose yours!
Individual, in rolls, cut... Whatever format, paper tablecloths are a necessary element to dress and protect any table, especially if you are looking for a comfortable and functional alternative that will save you headaches.
Without a doubt, disposable tablecloths are an ideal way to avoid stains on the surface of furniture, but also to bring a fun, elegant or sober touch to any occasion around the table.
Small or large, paper tablecloths cover, protect and refine surfaces. Intended primarily as the design basis for the table area they assume the design concept of the room.
Alone or in conjunction with matching napkins, dress your table in a cool way!
WHY CHOOSE THIS TABLECLOTH?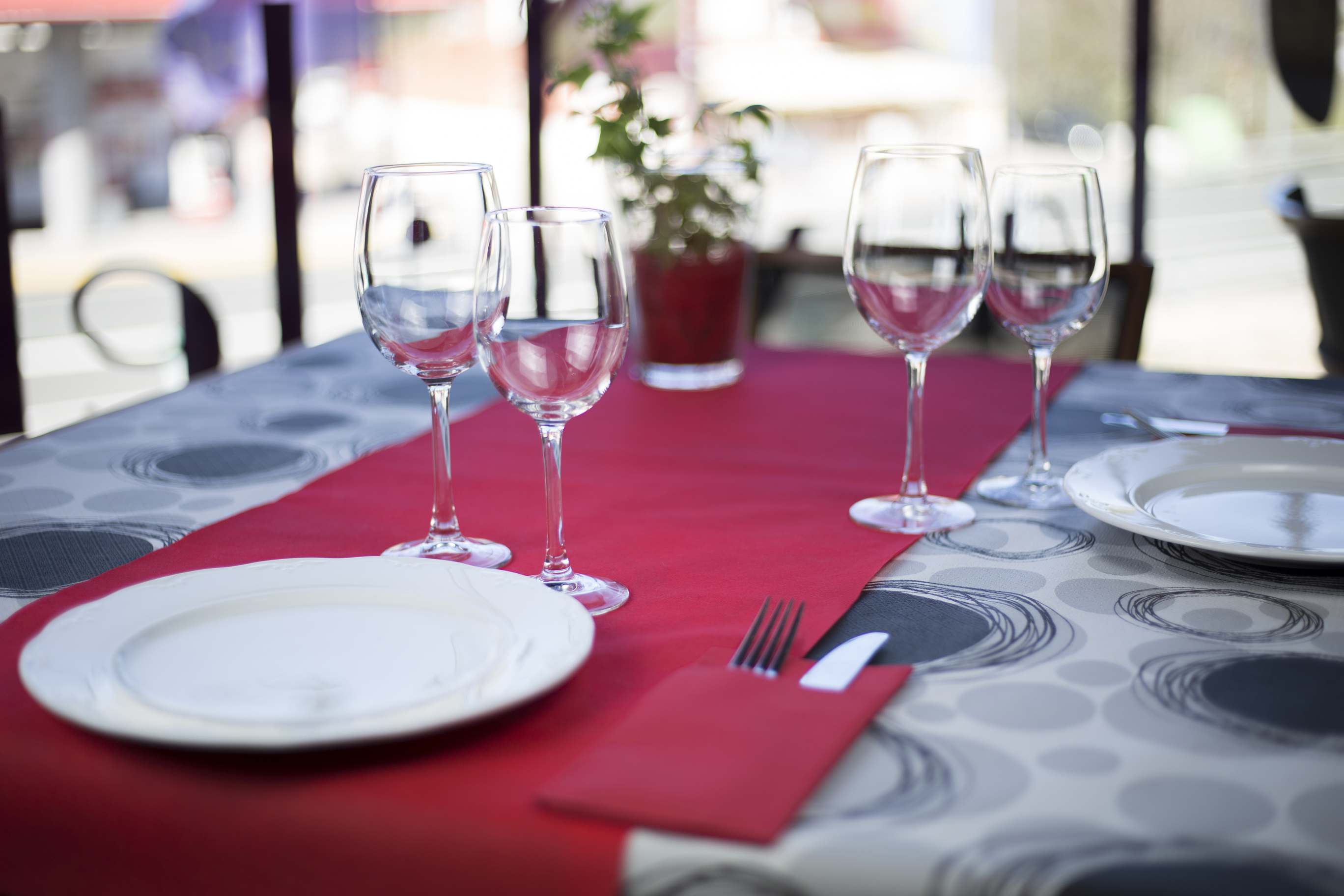 Exclusive qualities and outstanding performance.
Optimum hygiene and freshness: no fading, wrinkles, stains.
One-time use, comfort.
Solutions for both interiors and exteriors.
Color coordinated with napkins and other utensils.
Disposable table linen is interesting because it offers outstanding performance, such as hygiene and order, -without fading, wrinkles or stains-, comfort but also its wide range of uses -interior and exterior-.
But the coolest thing about this option is its great customization: you can combine it with many napkins and household items also available at MonoUso.
Types of paper tablecloths
We have a wide selection of paper tablecloths and offer different color options and a variety of sizes, styles and designs that are ideal for restaurants, event organisers, caterers and other food service businesses.
Tablecloths protect the surfaces of tables that coordinate with other elements of celebrations or items for themed parties, as well as enhance places with style and color.

Colorful tablecloths. Be the party's king!
Depending on what you're looking for, we've got a type of disposable tablecloth for you. Want something transgressive and unprecedented? Bet on yellow, magenta or green for single-use tablecloths. If you're looking for a nice afternoon outdoors, then sky blue, soft yellow or white is best. However, if you want a sober and dreamy atmosphere, opt for gold, black or grey on paper tablecloths.
Keep in mind the environment you are dedicated to, that is, it is not the same to make an event for a company -we advise you to use corporate colored tablecloths - then, it plays with fantasy.
Far from the preconceived idea you might have, a paper tablecloth doesn't have to be boring. Today there are all kinds of designs, colors and prints. At MonoUso you will be able to choose between different options: red, black, striped paper tablecloth... There are many alternatives to choose from to give that personal touch to your family meal or your hospitality business.
For outdoor events, we recommend brightly colored paper tablecloths: a green, yellow or sky blue tablecloth will cause a sensation among the guests, especially if you combine them with a white tableware that creates contrast.
In the case of more formal environments meals, we recommend neutral colors such as black or beige. It is also a good option to opt for corporate colors that represent your company.
Individual paper tablecloths
Time is money, we know that. If you are looking for something informal and fast, without ruling out elegance, the best are the individual tablecloths. Very popular in the most elegant restaurants, this type of tablecloths decorate a table in an easy and simple way. Choose the colors of the season, birds or crow's feet, you are sure to surprise your guests. The best? Savings in your pocket.
Diners' tablecloth par excellence does not have to be the "typical checkered" one. Our papyrus tablecloths allow you to assemble tables effectively and quickly, avoiding scratches and repelling liquids. Papyrus designs, contemporary and classic, even Cleopatra would envy.
Paper roll tablecloths
For large events, rolled tablecloths are the quickest and most economical option. Graduations? Communions? Weddings? Parties? Whether you are a caterer or a private individual this is the most comfortable option. Forget white and play with colors – we have the coolest.
Waterproof tablecloths
Wow! It looks like magic... But no. Now we also have an offer of waterproof table covers that are made with a plastic layer which you can simply clean with a rag. I'm sure that with these tablecloths everything shines like a highlighter.
How to choose the perfect paper tablecloth
Depending on the occasion you will need one type of paper tablecloth or another.
At MonoUso you can find different formats, such as rolls of paper, table runners, cut pieces or individual tablecloths, although they all have in common the comfort in use. Once used, all you have to do is remove them and you're done.
Finding the best option depends on several issues. In case of a romantic dinner, the individual paper tablecloths are an elegant and original resource, although not as safe as the paper roll tablecloth, which protects the thickness of the surface and is perfect for long tables with many guests.
It is also important to know the size of the table we need to cover as well as its shape, especially in the case of round, completely square or oval tables. In this way you will be able to choose the best option to avoid unforeseen events and that all the surface is covered in an elegant and functional way.
Table runners add a plus of sophistication to the table if there is decoration in the centre of the table and whenever we talk about elegant dinners or lunches such as company dinners, Christmas dinners and other special occasions.
A paper tablecloth for every occasion

If you need to protect your table with an original tablecloth and adapted to the occasion that, in addition, does not suppose a great outlay, at MonoUso we have all type of resistant paper tablecloths, of quality and of different measures and colors.
If you are looking for a roll paper tablecloth for a communion, a baptism or a birthday with children, it is important to be of quality, to prevent it from breaking quickly, but also that it has a unique color or design that turns the table into the center of the party.
For caterings, hotels, restaurants and for any use in the hospitality sector in general, the resistance and professional finish of the paper tablecloth are key if we want to offer a good image to the customer. Because a disposable material is not at odds with an elegant table.
Paper tablecloths are ideal for outdoor use, whether in terraces, gardens or swimming pools, as they are disposable, we avoid damaging our cloth tablecloths with the possible inclement weather.
How to combine tablecloths with tableware
If you choose a good tablecloth, you'll have to choose a good tableware. Taste is in color. We don't all have the same tastes and preferences, so there have to be tablecloths that suit each of us. Dark, light or neutral colors. We offer all kinds of paper tablecloths for the colors you may need, tablecloths that will fit perfectly with that tableware we had planned to use in that important event.
MonoUso, disposable tablecloths for people with personality
There are many tables, and more and more, with the appearance of supermarkets like Ikea, the originality is being lost. To make a difference in your event or business you'll have to play with the accessories to get that touch that breaks the rules. Single-use tablecloths are the best option to keep your stay always free but also allow you to explore creativity.
For example, using trends. A few years ago, mnimalist colors such as beige, black, copper or white were very popular. Now, fashion has shifted to more vivid colors. As in clothing, everything comes back. And if not, let them tell the flared trousers, right? We don't always have unlimited capital to change the kitchenware atelier. The solution is paper tablecloths or plastic table covers, given their price, you can change rolls more often.

Take your table to the next level with custom tablecloths
Are you organizing an event? Do you want people to be interested in what you are offering at a table or at a stand? Or do you simply want to surprise your guests?
For many people, it all starts with something that turns their heads. A bold and visually appealing table attracts attention from the first glance, especially in busy environments such as trade shows or events and meals with friends outdoors.
We can transform a simple table into a professional table, personalizing your table linen as it is an excellent way to present to a potential customer the key elements of your company's brand: colors, logo and name.
Take advantage of all the options of our paper tablecloths, and if you do not find what you are looking for, you can contact us, we will help you find the best solution for you.
Why use paper tablecloths?
Paper tablecloths are the best alternative when you need to protect your table from food and drink stains without sacrificing comfort. As they are single use tablecloths, you will avoid washes and fights with difficult stains such as wine or chocolate, so typical in special lunches and dinners.
In addition, they are the best alternative if you need a tablecloth of a specific color, since you will not have to make an economic outlay on a single-use tablecloth.
At MonoUso you can find all kinds of paper tablecloths for birthdays, dinners with friends, dinners in the garden, parties, craft workshops ... Choose the size and color to suit the special occasion and give your evening an original touch without sacrificing the resistance of a 100% quality product.
The use of tablecloths that are not seen

We pay a lot of attention to the aesthetics, that the tablecloth goes according to the decoration, that it is well placed or that we have cut it well. But we must keep in mind the real use of a tablecloth, which is none other than to offer an important protection to the tables against stains caused by spills of liquids and damages due to the rubbing of the dishes or bottles of drink. That is why it is important not to use any type of tablecloth, but to choose the one that effectively fulfills the real function that it has.
Using and disposing of single-use paper tablecloths
Save time and money with the main advantage of this type of tablecloths, they are disposable. This means that when the event ends, it is automatically thrown away without the worry of having to wash. Stop putting washing machines before and after each event, and forget about all those irresistible stains that don't go away in any way. With paper tablecloths you've got it covered. You save time.
Why buy paper tablecloths at Monouso?
In our website you can find all kinds of disposable tablecloths in all kinds of colors, sizes and designs, as well as with different features. We also have accessories such as disposable plates, paper napkins, or plastic trays.
What are you waiting for to personalize your tables?
No products for this category.