Ashtray aluminium
If your business has a terrace or an outdoor space, an essential piece to offer a good service is the ashtray. With the aluminium ashtray you will be able to do it in a comfortable and practical way.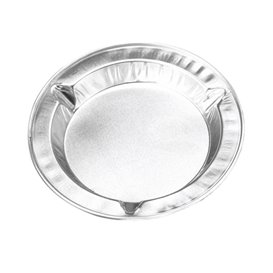 Aluminium Ahstray Ø8,8cm (100 Units)
Ref. 6156-100
100 Units
Price From
Price
4 , 76 €
In Stock
Aluminium Ashtray Ø8,9cm (3.000 Units)
Ref. 6156-100-30
3000 Units
Price From
Price
126 , 96 €
In Stock
Smoking is a widespread practice in our society. Therefore, the ashtray is an indispensable item for restaurants, catering, bars, pubs, parties, fairs or events.
Keeping spaces clean is essential to make your business attractive. The disposable aluminium ashtray will help to offer a better service and to keep your business clean. In addition, these ashtrays are more hygienic as they are disposable, so you don't have to worry about cleaning or bad smells.
The aluminium ashtrays have a silver finish and a simple but practical design as they have three slots where you can put your cigarettes and thus prevent them from falling out or rolling around and soiling your business.
Although they are disposable, the aluminium ashtrays are of high quality. Because they are made of aluminum, they are lightweight and resistant to the heat of cigarette butts or ashes. Take advantage of this opportunity and keep your tables clean at a very affordable price!
See more
See less