Wooden Knife Wrapped 16,5cm (500 pcs)
---
Wood

Serrated

Yes

Yes

Yes

Yes

500
Turn your restaurant business or office dining room into an eco-friendly space thanks to the 16,5cm high natural wood knife.
These knifes stand out for:
Made of wood.
Brown color that can vary slightly in shade, making each knife unique.
Apt for the freezer. It is resistant to oil and grease.
Disposable, biodegradable and recyclable product.
Used for both cooking and tasting hot and cold foods.
The price is for the box of 500 units. 20 Packs of 25 Units.
See more
See less
---
Natural wooden knife: your ally in the kitchen
You have a new hot dish on your menu and you want to give your cutlery a rustic style. Nothing better than a knife made of natural wood: ergonomic and insulating against high temperatures, it will give it the style you are looking for.
With the characteristic colour of wood, this disposable knife is biodegradable and 100% recyclable. It is widely used in the kitchen thanks to its insulating properties and it won't scratch containers!
Typical uses
The wooden knife is a fundamental utensil on our table and has a very important function in the world of cooking. On the one hand, you can use it to cut the ingredients of your recipes, as the taste of the wood does not transfer the flavour of the food.
On the other hand, it is an excellent and environmentally friendly alternative to traditional disposable cutlery. Beautiful, attractive and functional, they will not leave your guests indifferent.
Material of this knife
When talking about single-use products, we tend to think of plastics, but there are other materials that also fulfil this function: wood, for example. Its quality, resistance and respect for the environment make it an even more attractive component, right?
These are some of the benefits of wood that explain why it works so well in the kitchen. Wooden knives are used for tasting food for several reasons:
They are perfect for cutting in containers with non-stick surfaces because wood does not scratch.
Wood is not heat conductive so you can cook at high temperatures without the risk of getting burned.
Colour and shape
These knives are ergonomic and practical, making them another option to choose among disposable products of the same quality and resistance. With a simple design, these products do not splinter and are the perfect complement for breakfast, lunch or dinner. The brown colour of the wood will enhance the natural beauty of your table and add a touch of eco-friendliness.
Reasons to buy this product
Wooden knives will become an essential item in your kitchen for many reasons:
They are an excellent choice when cooking as they do not scratch or damage dishes or trays with non-stick surfaces.
Different uses in the kitchen as the wood insulates the heat. It will not be inconvenient to eat both hot and cold food.
It will give a rustic touch to your table.
Will not splinter or transmit the taste of the wood to the food
Still not sure?
If you have any questions about this product, why not give us a call? Monouso customer service will be happy to answer and advise you.
| | |
| --- | --- |
| Colour | Natural |
| Total Dimensions | 16,5 cm Wrapped |
| Design | Great to Go |
| Material | Wood |
| Product type | Knife |
| Uses | Restaurants and Catering |
| Certificates | Food Contact |
| Shape | Serrated |
| Biodegradable | Yes |
| Compostable | Yes |
| Food Contact | Yes |
| Family | Monouso |
| Intrastat | 44191900 |
| Length | 16,5 cm |
| Recyclable | Yes |
| Type | Reutilizable |
| Packs per Box | 20 |
| Price for | 500 |
| Units per Pack | 25 |
See more
See less
Other Sizes
Wooden Knife Wrapped 16,5cm (500 pcs)
---
Ref. 13148-25-20
500 Units
Price From
Price
59 , 00 €
In Stock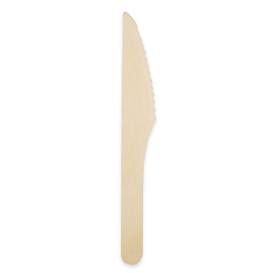 Ref. 12752-250-10
2500 Units
Price From
Price
121 , 76 €
In Stock
Wooden Knife Wrapped 16,5cm (500 pcs)
Ref. 13148-25-20
500 Units
Price From
Price
59 , 00 €
In Stock
Paper Dipping Cone Kraft 27cm 250g (50 Units)
Ref. 6184-50
50 Units
Price From
Price
9 , 45 €
In Stock
Paper Tray Rectangular shape Kraft 10x16 cm (100 Units)
Ref. 12174-100
100 Units
Price From
Price
4 , 15 €
In Stock