Wheat Straw Plate Natural Ø18 cm (800 Units)
 
---
Microwave-safe

Suitable for traditional oven

Biodegradable

Freezer-safe

Compostable
Biodegradable plate Ø18cm to complete the most demanding tables without polluting the environment.
Made of wheat pulp, 100% compostable.
Eco-friendly alternative to conventional plastic plates. It is recycled in the organic bin.
Suitable for microwave, oven and fridge.
Ideal for restaurants and the food sector.
The price is for a box of 800 units.
See more
---
Biodegradable and ecological plates, made of wheat pulp
If you are here, it is because you are looking for the best ecological plates for your business, and from Monouso we can only tell you that you have found them: wheat pulp plates are a best-seller in biodegradable tableware.
Manufactured with one of the most sustainable raw materials we know. Wheat pulp plates are produced from the leftovers of the wheat plant and are processed in a completely natural way, free of chemicals and pesticides. Thanks to this rapidly renewable material, practical and sustainable dishes are created with impressive advantages. We are sure you will be amazed.
Completely natural finish: the colour of these plates varies between brown and beige shades and why is that? Because no colouring is used in their manufacture. We have already mentioned that they are free of all types of synthetic products.
High resistance and maximum rigidity: don't be afraid to use them with dry, fatty or oily foods, even with sauces! Nothing will stop you from using these plates with any of your preparations. Their great resistance and rigidity will support heavy foods, and your customers can cut and prick them without damaging them.
For any occasion: Wheat pulp plates are ideal, for example, for use at informal gatherings. However, you are increasingly seeing this type of tableware in fine dining venues or professional catering and event services.
Hygienic: our wheat pulp plates are, without a doubt, the perfect disposable option. As they are single-use, they save you both time and money, just dispose of them in the appropriate container and you're done.
Respectful and sustainable: but it doesn't end here, apart from all the advantages we have told you about, wheat pulp plates are biodegradable and compostable, so you can dispose of them in the organic bin after use and you will be contributing to the sustainability of the environment and betting on a better planet.
---
Microwave-safe
Suitable for use in the microwave. It heats up quickly and safely, as it resists without any problem and does not deform or deteriorate. We recommend checking the technical data sheet for a safe and responsible use.
Suitable for traditional oven
Suitable for use in traditional ovens, with the total certainty that it will not deform or deteriorate as long as the product is used correctly and responsibly, following the instructions given.
Biodegradable
This product is biodegradable, it decomposes and degrades in a short period of time through a completely natural process, without leaving any residue and without the need for human intervention.
Freezer-safe
Suitable for use in the refrigerator or freezer, as our product is perfectly resistant to low temperatures without becoming brittle or degrading.
Compostable
This product is compostable. Once disposed of in the organic bin, and under controlled conditions in industrial composting plants, they are converted into compost, thus closing a sustainable cycle.
| | |
| --- | --- |
| Colour | Natural |
| Total Dimensions | Ø18cm |
| Design | Wheat |
| Material | Wheat Pulp |
| Product type | Plate |
| Uses | Restaurants and Catering |
| Diameter | 18 cm |
| Biodegradable | Yes |
| Compostable | Yes |
| Food Contact | Yes |
| Disposable | Yes |
| Family | Monouso |
| Intrastat | 48236910 |
| Recyclable | Yes |
| Type | Desechable |
| Packs per Box | 16 |
| Price for | 800 |
| Units per Pack | 50 |
See more
See less
Other Sizes
Wheat Straw Plate Natural Ø18 cm (800 Units)
Alternative Products
---
Sugarcane Plate White Ø18 cm (600 Units)
Ref 110682-50-12
600 Units
In Stock
Sugarcane Plate Premium Wave White Ø18cm (600 Units)
Ref 12642-50-12
600 Units
In Stock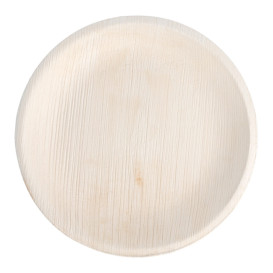 Palm Leaf Plate Round Shape Ø18cm (200 Units)
Ref 5973-25-8
200 Units
In Stock