Sugarcane Plate Square shape White 20x20 cm (50 Units)
---
Microwave-safe

Biodegradable

Compostable

Freezer-safe

Recyclable

Made in Europe
Sugarcane Plate Square shape White 20x20 cm.
biodegradable and compostable.
Oil and fat proof, for both hot and cold food.
Versatile for all types of celebrations and perfect for presenting any preparation.
Suitable for use in microwave, oven and freezer, always following the recommendations for use.
The price is for a pack of 50 units.
See more
With this product also buy
---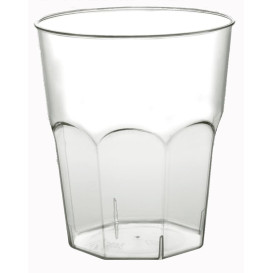 Plastic Cup Cocktail PS Clear Ø7,3cm 200ml (50 Units)
Ref 7716-50
50 Units
In Stock
---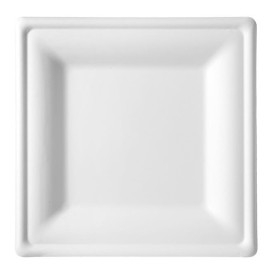 100% natural, the sugar cane dishes
Do you want to surprise your event or catering with a sustainable tableware, but with a superior quality? Don't keep looking, you've come to the right place and we are sure you won't find anything better than our sugar cane plates.
Sugar cane is one of the materials with the lowest environmental impact when it comes to manufacturing disposable tableware. How is this possible? We tell you. Sugar cane plates are obtained from bagasse, a product obtained after the processing of sugar cane. After processing this natural material, a bioplastic called vegetable polyethylene is obtained, which does not pollute.
As they are made from a 100% vegetable product, they are compostable and degrade naturally. However, this does not mean that you can dispose of them anywhere, for a correct waste treatment you will have to deposit them in the organic container.
But, their main virtues are not only in how ecological and sustainable they are. These are some of their other advantages:
Rigid, but at the same time light: these plates will undoubtedly be a real discovery for your business. They have the perfect rigidity to support all types of food without bending when it comes to taking them to the table and, despite this, they are not heavy at all.
Resistant and suitable for all types of food: sugar cane plates can withstand fatty and oily foods without any problem, as well as foods with sauces or even liquids. Whatever food you are going to serve, hot or cold, we assure you that you will not have any problems with softening, cracks or fissures.
High quality finish and appearance: if we talk about disposable plates, the classic white plates from birthday parties come to mind. Sugar cane plates are a far cry from the image we all have of disposable plates. Visually, their quality is very high and to the touch it is clearly noticeable. They have two sides, the outer one with a rougher feel and the inner one completely smooth.
They are easy to store and transport: these plates can be stacked very comfortably, taking up minimal storage space and facilitating transport if they are to be used at events or caterings. As they do not weigh, they will be a perfect quality option to take to your parties.
Easy to combine: combine these biodegradable plates with any other sustainable design you can find in our catalogue to create a neat presentation and a warm atmosphere.
---
Microwave-safe
Suitable for use in the microwave. It heats up quickly and safely, as it resists without any problem and does not deform or deteriorate. We recommend checking the technical data sheet for a safe and responsible use.
Biodegradable
This product is biodegradable, it decomposes and degrades in a short period of time through a completely natural process, without leaving any residue and without the need for human intervention.
Compostable
This product is compostable. Once disposed of in the organic bin, and under controlled conditions in industrial composting plants, they are converted into compost, thus closing a sustainable cycle.
Freezer-safe
Suitable for use in the refrigerator or freezer, as our product is perfectly resistant to low temperatures without becoming brittle or degrading.
Recyclable
Recycle this product without any problem once its useful life is over. You only have to pay attention to the material it is made of to know in which container you will have to dispose of it.
Made in Europe
This product is manufactured in Europe within the quality standards set.
Now the most sustainable plates are also available in white.
Plates with the most versatile colour could not be missing among those made of sugar cane. White plates are a perfect basic for any table.
Their advantages? Many advantages. Not only can you create tables with clean and neutral designs, but they also give you the option of combining them with an infinite number of colours that you will find in Monouso' s extensive catalogue to create original and unique creations.
| | |
| --- | --- |
| Colour | White |
| Total Dimensions | 20x20cm |
| Design | Catering |
| Material | Sugarcane |
| Product type | Plate |
| Certificates | Food Contact |
| Width | 20 cm |
| Compostable | Yes |
| Food Contact | Yes |
| Family | Monouso |
| Intrastat | 48236910 |
| Length | 20 cm |
| Microwave | Yes |
| Type | Desechable |
| Packs per Box | 20 |
| Price for | 50 |
| Dimensions | 20x20cm |
| Units per Pack | 50 |
See more
See less
Other Sizes
Sugarcane Plate Square shape White 20x20 cm (50 Units)