Reusable PS Champagne Flute Black Foot Cava 150ml 2-P (432 Units)
 
432 Units
€192.57
-20%
€154.06
0,357€/Ud
€192.57
-20%
€154.06

(tax incl.)
0,357€/Ud
Plastic Stemmed Cup Sparkling Wine Black 150ml 2P (432 Units)
See more
---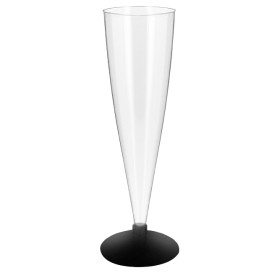 Functionality, durability and style: PS glasses
Are you looking to organise a stylish but safe event at the same time? With PS plastic glasses that's done. Designed to combine elegance and convenience in one product, these reusable glasses are the best kept secret of any successful event. But what makes these cups so special?
Let's talk about the manufacturing material, polystyrene, PS. This material is known for its crystal clear appearance, which brings a touch of sophistication to your events without the risk of breakage commonly associated with glass. PS plastic cups are strong, lightweight and easy to handle, making them the ideal choice for outdoor celebrations or any event where safety and practicality are paramount.
Do you want to know all the advantages that PS cups can offer you? We tell you about them.
Resistance without worries: they add a touch of sophistication to your events without the worry of breakage or damage. Your guests will feel cared for with these glasses that combine style and durability.
Reusable: designed to be used over and over again, they are an eco-friendly alternative to disposable plastic tableware and an economical solution for your pocket.
Unlimited versatility: PS reusable cups are perfect for outdoor events, parties with many guests, catering services, tastings and everyday use in your venue.
Champagne flutes: a sophisticated and simple atmosphere
Choosing the right glass is not only an art, but a decision that can enhance your experience when enjoying an exquisite champagne. Make every toast a full celebration with our champagne flutes. The simple and elegant solution that will transform any occasion into an unforgettable moment.
Imagine enjoying champagne in precision-designed glasses. With their elongated and narrow shape, these glasses are designed to preserve the bubbles and effervescence of sparkling wines. The opening of the glass plays a crucial role in retaining and concentrating the aromas and flavours, ensuring that each sip is a unique experience.
| | |
| --- | --- |
| Colour | Black |
| Total Dimensions | 150 ml |
| Design | Economic |
| Material | PS (Polystyrene) |
| Product type | Flute Glass Low Foot |
| Total capacity | 150 ml |
| Certificates | Food Contact |
| Lower diameter | 6 cm |
| Top diameter | 5 cm |
| Shape | Concave |
| Height | 18 cm |
| Food Contact | Yes |
| Disposable | Yes |
| Family | Monouso |
| Intrastat | 39241000 |
| Recyclable | Yes |
| Reusable | Yes |
| Type | Desechable |
| Packs per Box | 72 |
| Price for | 432 |
| Units per Pack | 6 |
See more
See less
Alternative Products
---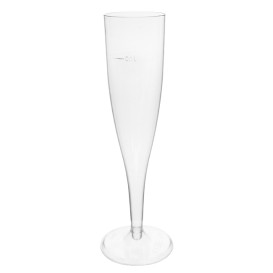 Reusable PS Champagne Flute Premium Cava 140ml 2-P (100 Units)
Ref 3043-10-10
100 Units
In Stock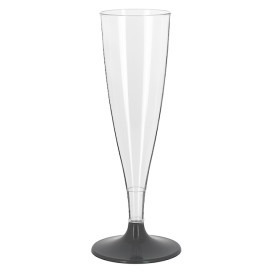 Reusable Durable PS Champagne Flute Anthracite Foot Cava 140ml 2-P (48 Units)
Ref 13348-6-8
48 Units
In Stock