Wooden Teaspoon Flat 12,5cm (50 Units)
 
€3.15

(tax incl.)
0,063€/Ud
---
Biodegradable

Compostable

Recyclable
Spoon made of wood, of 12,5 cm in length. Perfect for eating all kinds of desserts.
Biodegradable and compostable.
Suitable for hot desserts such as ice cream, withstands temperatures from 45ºC to -20ºC.
Resistant to oils and fats.
Ideal for consuming all kinds of desserts and snacks at outdoor events, birthday parties, picnics or catering.
See more
---
Wooden spoons, the sustainable and economical alternative
An eco-friendly alternative to classic spoons? Economical, like plastic spoons, but with better results? We recommend our selection of biodegradable wooden cutlery. And what can you use these wooden spoons for? For desserts, ice cream, cakes or even for hot food and drinks such as coffee or tea. Practicality first and foremost!
These wooden spoons are made of birch wood with a simple design. Our wooden cutlery does not splinter and is the perfect accessory for breakfast, lunch or dinner. Its advantages? All the advantages of a classic metal spoon and all the advantages of a product made from sustainable materials.
For any moment: their resistance and practicality make them perfect for use on all kinds of occasions. Whether in food trucks, buffets, caterings, events or take away and delivery services, there is nothing better than a natural wooden spoon: ergonomic and insulating against high temperatures. And it doesn't scratch the containers!
Natural design: its simple lines and the colour of the wood will enhance the natural beauty of any of your presentations, giving it a rustic and ecological touch.
Environmentallyfriendly: opting for biodegradable and compostable cutlery such as wooden cutlery is always better. This alternative to plastic avoids polluting our planet with chemical treatments. As well as saving money and time in washing them.Use and dispose without polluting!
---
Biodegradable
This product is biodegradable, it decomposes and degrades in a short period of time through a completely natural process, without leaving any residue and without the need for human intervention.
Compostable
This product is compostable. Once disposed of in the organic bin, and under controlled conditions in industrial composting plants, they are converted into compost, thus closing a sustainable cycle.
Recyclable
Recycle this product without any problem once its useful life is over. You only have to pay attention to the material it is made of to know in which container you will have to dispose of it.
| | |
| --- | --- |
| Colour | Natural |
| Total Dimensions | 12,5cm |
| Material | Wood |
| Product type | Teaspoon |
| Certificates | Food Contact |
| Shape | Elongated |
| Biodegradable | Yes |
| Compostable | Yes |
| Food Contact | Yes |
| Disposable | Yes |
| Family | Monouso |
| Intrastat | 44191900 |
| Length | 12,5 cm |
| Recyclable | Yes |
| Type | Reutilizable |
| Packs per Box | 100 |
| Price for | 50 |
| Units per Pack | 50 |
See more
See less
Alternative Products
---
Wooden Coffee Stirrer "Remo" 13cm (1000 Units)
Ref 41016-1000
1000 Units
In Stock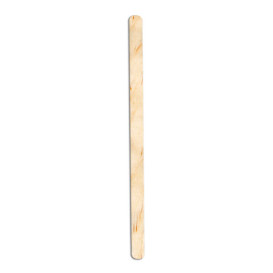 Wooden Coffee Stirrer 14cm (1000 Units)
Ref 12759-1000
1000 Units
In Stock