Wooden Knife Natural 19,3cm (100 Units)
 
100 Units
€8.44
-30%
€5.91
0,059€/Ud
€8.44
-30%
€5.91

(tax incl.)
0,059€/Ud
---
Biodegradable

Compostable

Recyclable

With FSC seal
Disposable wooden knife, 19.3 cm long. It is an eco-friendly cutlery and an excellent alternative to traditional disposable cutlery.
Made from 100% natural resources.
Disposable, biodegradable and recyclable.
Suitable for hot and cold food.
With an original and simple design, it adapts to all situations.
See more
With this product also buy
---
Reusable Cup PS Cristal 240ml (12 Units)
Ref 4019-12
12 Units
In Stock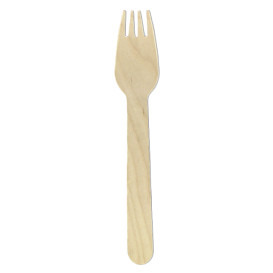 Wooden Fork Eco 16cm (100 Units)
Ref 4324-100
100 Units
In Stock
Wooden Spoon Eco 16cm (100 Units)
Ref 4325-100
100 Units
-40% 6, 42€ Regular price 10,70 €
0,064€/Wooden
In Stock
---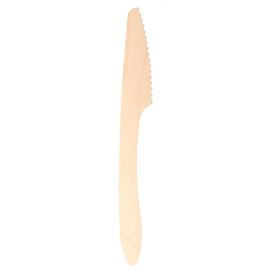 Wooden knives, the sustainable and economical alternative
Eco-friendly alternative to the classic cheap plastic cutlery but with better results? Don't worry, we're sure you won't be looking any further once you get to know our biodegradable wooden cutlery. Apply the pressure you need to cut your food with the peace of mind that these wooden knives won't bend or break. Nothing can resist them!
These knives are made of birch wood with a simple design. Our wooden cutlery will not splinter and is the perfect accessory for breakfast, lunch or dinner. Its advantages? All the advantages of classic metal cutlery and, in addition, all the advantages of a product made with sustainable materials.
Eco-friendly: opting for biodegradable and compostable cutlery such as wooden cutlery is always better. This alternative to plastic avoids polluting our planet with chemical treatments. As well as saving money and time in washing them.Use and dispose without polluting!
Resistant: their resistance and practicality make them perfect for use on all kinds of occasions. Whether in food trucks, buffets, caterings, events or take away and delivery services, there is nothing better than a natural wood fork: ergonomic and insulating against high temperatures. And it doesn't scratch the containers!
---
Biodegradable
This product is biodegradable, it decomposes and degrades in a short period of time through a completely natural process, without leaving any residue and without the need for human intervention.
Compostable
This product is compostable. Once disposed of in the organic bin, and under controlled conditions in industrial composting plants, they are converted into compost, thus closing a sustainable cycle.
Recyclable
Recycle this product without any problem once its useful life is over. You only have to pay attention to the material it is made of to know in which container you will have to dispose of it.
With FSC seal
The FSC seal is a guarantee of sustainability and ensures that the material from which this product is made comes from sustainably managed forests, thus contributing to the sustainability of the environment.
| | |
| --- | --- |
| Colour | Natural |
| Total Dimensions | 19,3 cm |
| Design | Wood |
| Material | Wood |
| Product type | Knife |
| Uses | Restaurants and Catering |
| Certificates | Food Contact |
| Shape | Serrated |
| Biodegradable | Yes |
| Compostable | Yes |
| Food Contact | Yes |
| Disposable | Yes |
| Family | Monouso |
| Intrastat | 44191900 |
| Length | 19,3 cm |
| Recyclable | Yes |
| Type | Reutilizable |
| Packs per Box | 20 |
| Price for | 100 |
| Units per Pack | 100 |
See more
See less
Alternative Products
---
Wooden Knife "Classic" 20cm (100 Units)
Ref 6169-100
100 Units
In Stock
Wooden Knife Eco 16cm (100 Units)
Ref 4326-100
100 Units
-40% 5, 29€ Regular price 8,81 €
0,053€/Wooden
In Stock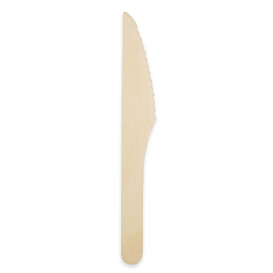 Wooden knife 16,5cm (250 pcs)
Ref 12752-250
250 Units
In Stock