Plastic Cup PP Clear 500ml (50 Units)
 
---
PP (Polypropylene)

Cylinder

Yes

Yes

50
Disposable cup made of PP Transparent with a capacity of 500ml.
Recyclable.
Shock and drop resistant material, does not splinter.
Lightweight but very rigid cup.
Suitable for cold drinks such as soft drinks, beers or slush drinks and hot drinks such as coffees or infusions.
Ideal for cafes, bars, water dispensers or vending services as well as for all kinds of celebrations or meetings.
The price is for a pack of 50 units.
See more
With this product also buy
---
---
In our shop we have these clear plastic PP 500 ml cups available for both private and business customers. With a capacity of half a litre, they have a fantastic design and quality. They are completely smooth and have slightly thicker walls than corrugated cups in the same category, making their design more elegant and sophisticated. At Monouso we take the utmost care with the quality of all our single-use products, so these cups are very rigid to prevent drinks from spilling.
The PP transparent 500 ml disposable cups are made of polypropylene, a plastic material specially designed for cold drinks. This way, thanks to the material and size of the cups, you can use them to serve beers, mixed drinks, cubatas, cocktails, soft drinks and water at your celebrations.
If you want to buy 500 ml transparent polypropylene cups in our shop, depending on the order volume you need, we have either bags of 50 units or boxes of 1,000 units.
Application:
Transparent disposable plastic cup made of polypropylene 500ml. This disposable item is also known as a half-litre plastic cup. It is used for cold drinks, both for soft drinks and alcoholic beverages.
Capacity: 500ml.
Colour: Clear
Material: Polypropylene (PP)
Measurements:
Top Diameter: 9,9 cm
Height: 12,1 cm
Bottom Diameter: 5,9 cm
Presentation: 500ml plastic cup in bag of 50 units.
| | |
| --- | --- |
| Colour | Clear |
| Total Dimensions | 500 ml |
| Design | Classic |
| Material | PP (Polypropylene) |
| Product type | Cup |
| Uses | Cold and Hot Drinks |
| Cantidad Mínima Palé | 400 |
| Total capacity | 500 ml |
| Certificates | Food Contact |
| Lower diameter | 5,9 cm |
| Top diameter | 9,9 cm |
| Shape | Cylinder |
| Height | 12,1 cm |
| Food Contact | Yes |
| Disposable | Yes |
| Family | Monouso |
| Intrastat | 39241000 |
| Measuring mark | 400 ml |
| Recyclable | Yes |
| Type | Desechable |
| Packs per Box | 20 |
| Price for | 50 |
| Units per Pack | 50 |
See more
See less
Other Sizes
Plastic Cup PP Clear 500ml (50 Units)
Alternative Products
---
Plastic Cup PP Clear 500ml Ø9,4cm (50 Units)
Ref 13730-50
50 Units
In Stock
Compostable PLA Cup Clear 550ml Ø9,5cm (70 Units)
Ref 8169-70
70 Units
-20% 15, 06€ Regular price 18,83 €
0,215€/Compostable
In Stock
Compostable PLA Cup "Green Stripe" Ø9,5cm 470ml (50 Units)
Ref 11915-50
50 Units
-35% 12, 30€ Regular price 18,92 €
0,246€/Compostable
In Stock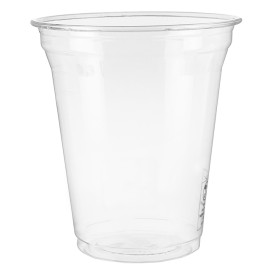 Compostable PLA Cup Clear 450ml Ø9,5cm (75 Units)
Ref 8168-75
75 Units
-25% 14, 60€ Regular price 19,47 €
0,195€/Compostable
In Stock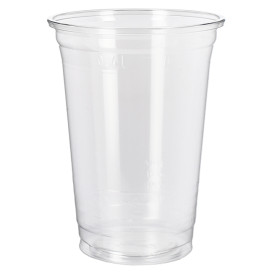 Plastic Cup PET 532ml Ø9,5cm (50 Units)
Ref 6162-50
50 Units
In Stock
Plastic Cup PP Clear 500ml (50 Units)
Ref 2008-50
50 Units
In Stock
Foil Pan for Roast Chicken Round Shape 1900ml (125 Units)
Ref 34008-125
125 Units
In Stock