Paper Plate Wood Pulp Chinet Flavour 22 cm (500 Units)
 
---
Microwave-safe

Biodegradable

Compostable

Recyclable

With PEFC seal
Paper Plate made in Wood Pulp Chinet Flavour 22 cm.
The price is for a box of 500 units.
See more
---
Ecological and sustainable plates made of moulded fibre
Are you looking for high quality, eco-friendly and sophisticated looking tableware for your events? You've definitely found it. Chinet Pulpa plates are so strong and rigid that they have nothing to envy from classic tableware.
The most striking feature of these plates is that they are made from recycled paper fibres, which are shaped through a moulding process. Specifically, the cellulose pulp is mainly obtained from the recycling of other cardboard and paper packaging products. And now that we have told you about the material they are made of, let us tell you about their many advantages:
Great resistance: both with watery, dry or fatty foods. Nothing prevents you from using this type of plate with any of your preparations. Cut and prick with total safety and without fear of damaging the plates.
Premium material with maximum rigidity: these moulded fibre plates have an extreme resistance, suitable to support heavy foods, such as meats accompanied with their garnish, without any problem, or even preparations with sauces. You can be sure that they will not warp or soften.
For all events: Chinet Pulpa plates are perfect for birthday parties and more casual celebrations, but also for professional hotel and catering services. Their neat aesthetics adapt to all kinds of occasions.
As well as being convenient, they are hygienic: our cardboard plates are, without a doubt, the perfect disposable option. As they are single-use, they allow you to save both time and money, just dispose of them in the corresponding container and that's it.
Very respectful with nature: thanks to the fact that Chinet Pulpa plates are made from recycled material. In addition, they are recyclable, biodegradable and compostable, so with your purchase you will be contributing to environmental sustainability and the creation of a better planet for everyone.
---
Microwave-safe
Suitable for use in the microwave. It heats up quickly and safely, as it resists without any problem and does not deform or deteriorate. We recommend checking the technical data sheet for a safe and responsible use.
Biodegradable
This product is biodegradable, it decomposes and degrades in a short period of time through a completely natural process, without leaving any residue and without the need for human intervention.
Compostable
This product is compostable. Once disposed of in the organic bin, and under controlled conditions in industrial composting plants, they are converted into compost, thus closing a sustainable cycle.
Recyclable
Recycle this product without any problem once its useful life is over. You only have to pay attention to the material it is made of to know in which container you will have to dispose of it.
With PEFC seal
The PEFC label certifies that our product comes from sustainably managed forests and controlled sources, thus contributing to environmental sustainability.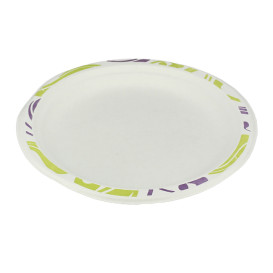 The original Chinet Pulpa plates with border
Are you looking for an original and subtle touch to your business and you are tired of the classic white plates? These Chinet Pulpa plates have a design that is hard to find anywhere else and that we are sure will catch the eye of all your diners.
Their rim is decorated with an elegant but striking border that contrasts in a sophisticated way with the white background and that will dress up any table where you decide to serve your preparations.
Colour
Beige
Green
Purple
Total Dimensions
Ø22cm
Design
Chinet
Material
Molded Fiber Paper
Product type
Plate
Certificates
Food Contact
Diameter
22 cm
Compostable
Yes
Food Contact
Yes
Family
Monouso
Intrastat
48236910
Microwave
Yes
Type
Desechable
Packs per Box
4
Price for
500
Dimensions (Ø)
Ø22cm
Units per Pack
125
See more
See less
Disinfectant and Sanitising Wipes (500 Units)
Ref 70040-100-5
500 Units
22, 03€
0,044€/Disinfectant
In Stock
Command Book with Triplicate 10x15cm (10 Units)
Ref 8943-10
10 Units
-20% 12, 83€ Regular price 16,03 €
1,283€/Command
In Stock