Paper Plate Round Shape White 23cm 600g/m² (100 Units)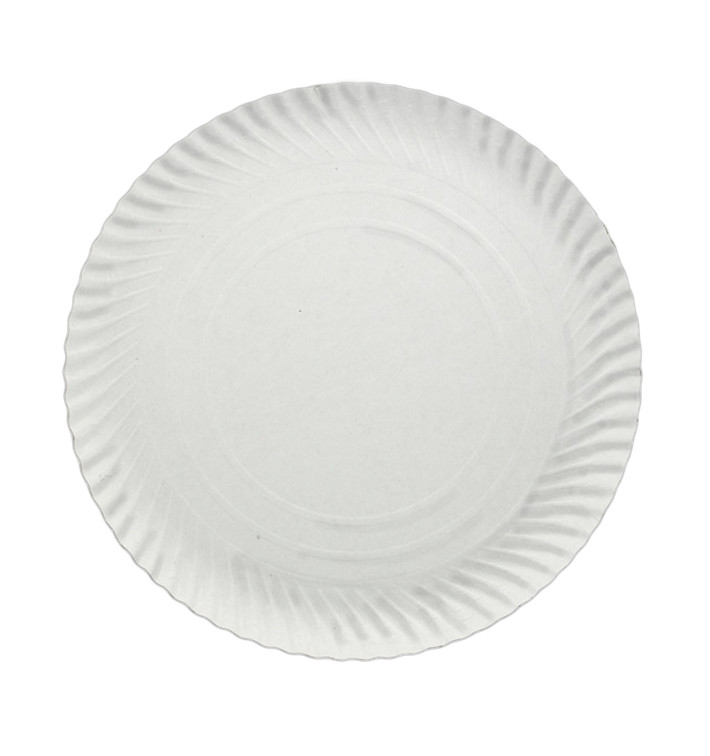  
100 Units
€25.95
0,260€/Ud
€25.95

(tax incl.)
0,260€/Ud
---
Plastic free

Biodegradable

Compostable

Recyclable

With FSC seal
Paper Plate Round Shape White 23cm.
Ecological: Biodegradable, compostable and recyclable.
Without any kind of lamination, 100% plastic free.
Perfect for all types of food, both hot and cold.
The price is for a pack of 100 Units.
See more
---
Indispensable on any table: disposable cardboard plates.
We know that if you use them at your events you will never want to change them again. Cardboard plates have countless advantages that have made them indispensable even at large events and catering services. What are they? We tell you:
The perfect alternative to plastic: made of folding cardboard, our paper plates are made from cellulose from forests certified for the responsible management of their resources, so by buying them you are avoiding deforestation and taking care of the environment.
As well as being convenient, they are also hygienic: our cardboard plates are, without a doubt, the perfect disposable option. As they are single-use, they allow you to save both time and money, just dispose of them in the appropriate container and that's it.
Resistant, but light and economical: at Monouso we like to offer versatile and above all useful products. Therefore, prick and cut on these cardboard plates without fear of breaking them and with the comfort of barely weighing them. They have different finishes that allow them to withstand all kinds of foods that you present on them in a very economical way.
Optimise your storage space: they are stackable, so they take up very little space when storing them.
---
Plastic free
No plastic has been used in the manufacture of this product, hence its name Plastic Free. The consumption of this type of product contributes to the care and respect for the environment.
Biodegradable
This product is biodegradable, it decomposes and degrades in a short period of time through a completely natural process, without leaving any residue and without the need for human intervention.
Compostable
This product is compostable. Once disposed of in the organic bin, and under controlled conditions in industrial composting plants, they are converted into compost, thus closing a sustainable cycle.
Recyclable
Recycle this product without any problem once its useful life is over. You only have to pay attention to the material it is made of to know in which container you will have to dispose of it.
With FSC seal
The FSC seal is a guarantee of sustainability and ensures that the material from which this product is made comes from sustainably managed forests, thus contributing to the sustainability of the environment.
Plates with zero plastic in their manufacture
Without any kind of lamination and without plastic, Plastic Free cardboard plates are the most sustainable option on the market.
Can they stand up to the test without any kind of coating? Of course they can, but they also have the advantage that, as they have no lamination, the cardboard absorbs the humidity of the hot preparations that you place on them so that it does not condense on the surface and the food does not soften, keeping your meals in perfect condition. Use them with all kinds of hot or cold foods without any fear.
As they do not contain plastic in their composition, these plates are totally biodegradable and compostable, so by disposing of them in the organic bin you will be contributing to sustainability and care for the environment.
The classic white plates
The predominant colour par excellence when it comes to plating. White cardboard plates are a simple and versatile basic for every table. Their advantage? They go perfectly with absolutely everything.
If you are looking for a simple presentation, use them alone and you will see how white enhances the colours of your preparations, but if you are looking to escape from routine and surprise your guests, you can combine them with plates or accessories in any other colour.
| | |
| --- | --- |
| Colour | White |
| Total Dimensions | Ø23cm |
| Design | Classic |
| Material | Paper / Cardboard |
| Product type | Plate |
| Diameter | 23 cm |
| Disposable | Yes |
| Family | Monouso |
| Intrastat | 48236910 |
| Recyclable | Yes |
| Type | Desechable |
| Packs per Box | 6 |
| Price for | 100 |
| Dimensions (Ø) | Ø23cm |
| Units per Pack | 100 |
See more
See less
Other Sizes
Paper Plate Round Shape White 23cm 600g/m² (100 Units)
Other Colors
Paper Plate Round Shape White 23cm 600g/m² (100 Units)