Paper Plate Round Greaseproof Shape Kraft Ø22cm 195g/m² (350 Units)
Kraft coloured greaseproof plate with Ø22cm diameter. Made entirely of cardboard from sustainably harvested.
Ecological: Compostable, biodegradable and recyclable.
Versatile: Suitable for hot and cold food.
100% plastic-free. Made of laminated paper.
Resistant to sauces thanks to its water-based coating.
Suitable for food contact.
The price is for the Box of 350 Units. 7 Packs of 50 Units.
See more
---
Indispensable on any table: disposable cardboard plates.
We know that if you use them at your events you will never want to change them again. Cardboard plates have countless advantages that have made them indispensable even at large events and catering services. What are they? We tell you:
The perfect alternative to plastic: made of folding cardboard, our paper plates are made from cellulose from forests certified for the responsible management of their resources, so by buying them you are avoiding deforestation and taking care of the environment.
As well as being convenient, they are also hygienic: our cardboard plates are, without a doubt, the perfect disposable option. As they are single-use, they allow you to save both time and money, just dispose of them in the appropriate container and that's it.
Resistant, but light and economical: at Monouso we like to offer versatile and above all useful products. Therefore, prick and cut on these cardboard plates without fear of breaking them and with the comfort of barely weighing them. They have different finishes that allow them to withstand all kinds of foods that you present on them in a very economical way.
Optimise your storage space: they are stackable, so they take up very little space when storing them.
---
Biodegradable
This product is biodegradable, it decomposes and degrades in a short period of time through a completely natural process, without leaving any residue and without the need for human intervention.
Compostable
This product is compostable. Once disposed of in the organic bin, and under controlled conditions in industrial composting plants, they are converted into compost, thus closing a sustainable cycle.
Recyclable
Recycle this product without any problem once its useful life is over. You only have to pay attention to the material it is made of to know in which container you will have to dispose of it.
With FSC seal
The FSC seal is a guarantee of sustainability and ensures that the material from which this product is made comes from sustainably managed forests, thus contributing to the sustainability of the environment.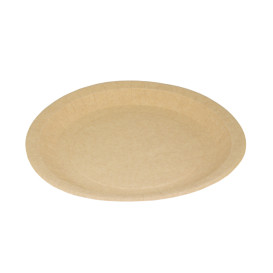 With grease-resistant coating
Excluding plastic lamination. How are these single-use plates able to withstand all types of food? Quite simply, in order to maintain the highest quality of the greaseproof cardboard plates, we have replaced the classic lamination with a water-based lacquer coating that allows them to maintain their strength and stability at all times.
For hot or cold, fatty, oily or liquid foods and whatever you want to serve. Get the same advantages as with any cardboard plate with plastic lamination, but in a sustainable and environmentally friendly way. These disposable plates are biodegradable and compostable, so by using them you are contributing to the care of the environment. After use you will have to dispose of them in the organic bin.
Kraft colour paper plates, simple and natural
Did you know that natural tones are a trend and a safe bet? Kraft-coloured cardboard plates have a simple design, but with their handmade appearance you will give a rustic and warm touch to your tables.
A way to give a different touch to your events. Combine them with other natural-coloured products to create a sustainable atmosphere or contrast them with other bright colours to enhance your presentations.
| | |
| --- | --- |
| Colour | Kraft |
| Total Dimensions | Ø22cm |
| Design | Elegance |
| Material | Paper / Cardboard |
| Product type | Plate |
| Certificates | Food Contact |
| Biodegradable | Yes |
| Certificate 1: FSC | Si |
| Compostable | Yes |
| Food Contact | Yes |
| Disposable | Yes |
| Family | Monouso |
| Grammage | 195 g/m² |
| Intrastat | 48236910 |
| Recyclable | Yes |
| Grease-proof | Yes |
| Type | Desechable |
| Packs per Box | 7 |
| Price for | 350 |
| Dimensions (Ø) | Ø22cm |
| Units per Pack | 50 |
See more
See less