Reusable Shot Cup PS Cristal Clear 50ml (1.600 Units)
 
1.600 Units
€165.83
-28%
€119.40
0,075€/Ud
€165.83
-28%
€119.40

(tax incl.)
0,075€/Ud
---
PS (Polystyrene)

Cylinder

Yes

Yes

1600
Plastic Shot PS Injection Moulding Clear 50 ml (1600 Units).
See more
---
Simplicity and strength with PS Cristal glasses
Are you looking for the perfect combination of elegance and practicality for your business or event? PS Cristal plastic cups are the answer. Not only do they add a touch of sophistication, but they are also incredibly versatile and reusable.
So what is PS Cristal? PS (Polystyrene Crystal) is a type of plastic that has been carefully crafted to mimic the appearance of glass. This imitation is so amazingly realistic that your guests won't even notice the difference. The result? Glassware that is just as elegant as glass, but without the risk of breakage and at a much more affordable price.
Want to know more reasons why you should choose glass PS plastic cups?
Use them again and again: as they are reusable, opting for these glasses is a smart decision for your event or party business, and also for your environmental responsibility. The simplicity of cleaning and the ability to keep them in optimal condition for future use make them an exceptional choice.
Lightweight and durable: Unlike glass, PS Cristal glasses are lightweight and shatter-resistant. You can be sure that your guests will enjoy their drinks without worry.
Perfect for any occasion: PS Cristal plastic glasses add a touch of class to any occasion. Whether you're serving cocktails at a formal event or refreshments at your coffee shop, these glasses will elevate your customers' experience.
Shot glasses: beyond toasts
Now let's talk about those versatile shot glasses, have you ever wondered how valuable they can be in the hospitality industry? From bars to restaurants, nightclubs to caterers, these glasses are perfectly suited to a wide variety of businesses in the industry. The question is, have you ever tried the magic of serving creative spirits and cocktail tastings in them? They really add that touch of originality to the drinking experience!
But here comes another question: did you know that these glasses are not just for drinks? They are a more than practical choice for presenting small culinary preparations, such as individual desserts and appetizers, with an elegance that will impress your guests. Their versatility is astounding. So what are you waiting for to incorporate these shot glasses and take your catering business to the next level? I assure you that you won't be disappointed!
| | |
| --- | --- |
| Colour | Clear |
| Total Dimensions | 50 ml |
| Material | PS (Polystyrene) |
| Product type | Cup |
| Uses | Cold and Hot Drinks |
| Total capacity | 50 ml |
| Certificates | Food Contact |
| Shape | Cylinder |
| Food Contact | Yes |
| Disposable | Yes |
| Family | Monouso |
| Intrastat | 39241000 |
| Measuring mark | 50 ml |
| Recyclable | Yes |
| Type | Desechable |
| Packs per Box | 40 |
| Price for | 1600 |
| Units per Pack | 40 |
See more
See less
Alternative Products
---
Reusable Shot Cup PS Cristal Clear Ø4,5cm 50ml (1000 Units)
Ref 7495-50-20
1000 Units
-10% 98, 21€ Regular price 109,12 €
0,098€/Reusable
In Stock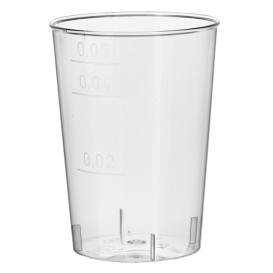 Reusable Shot Cup PS Cristal Clear 50ml (40 Units)
Ref 4426-40
40 Units
-25% 3, 11€ Regular price 4,15 €
0,078€/Reusable
In Stock