Plastic Cup Holder PP Brown (96 Units)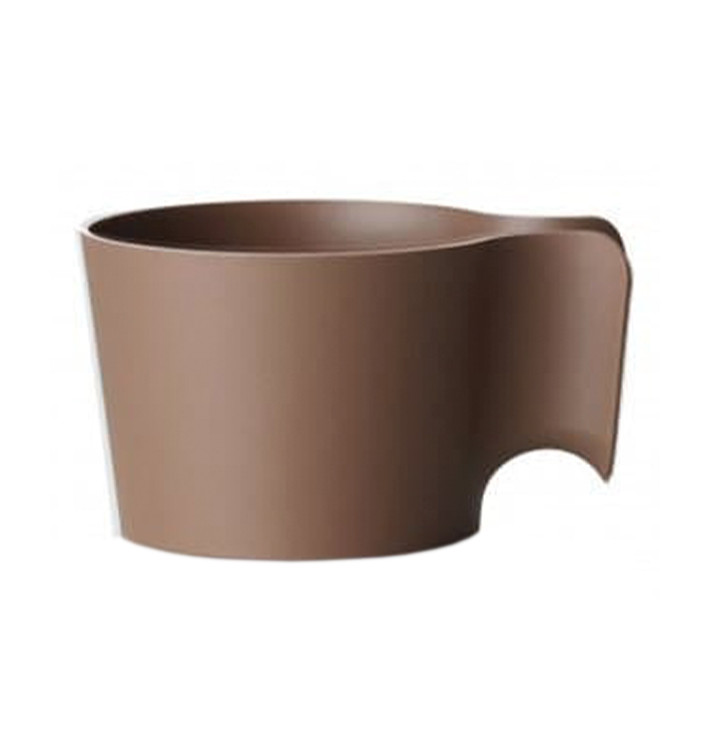  
---
PP (Polypropylene)

Cylinder

Yes

96
Reusable Cupholder in Brown colour made of PP. Ideal for businesses with take away beverage service.
Suitable for 160, 200 and 220ml capacity cups.
Ergonomic design to ensure no liquid spillage.
Functional and elegant product with high quality finish.
Built-in handle to ensure carrying comfort.
Price is for a box of 96 units.
See more
With this product also buy
---
Lid for Paper Cup Hole 4Oz/120ml White Ø6,2cm (100 Units)
Ref 4382-100
100 Units
-25% 4, 46€ Regular price 5,94 €
0,045€/Lid
In Stock
Plastic Tray Microwavable Lilac "Nice" 28x19cm (240 Units)
Ref 7973-12-20
240 Units
In Stock
---
PP sleeves: safe protection for your drinks
Looking for a practical and versatile choice to ensure comfort and safety while your customers enjoy their favourite drinks? With their exceptional strength, effective thermal insulation and ergonomic design, our reusable cup sleeves will protect your drinks and keep them at the perfect temperature for longer.
Made from a tough and durable material, polypropylene, they offer exceptional thermal protection, keeping your hands comfortable while you enjoy your favourite drink. Plus, their innovative design provides a secure grip, preventing spills and giving you peace of mind with every sip. But that's not all! These sleeves are reusable and easy to clean, making them a sustainable option that promotes environmental conservation.
Don't wait any longer and add this amazing addition to your business to give your customers a unique experience. Do you still need more reasons to choose PP cup sleeves?
Resistant and safe: its material guarantees high resistance and a perfect grip to prevent the contents of the cup from spilling.
Insulating: they keep heat or cold inside the cup, preventing it from reaching your customers' hands.
Reusable: by using these reusable cup covers instead of traditional disposable cup holders, you contribute to reducing the amount of waste generated.
| | |
| --- | --- |
| Colour | Brown |
| Total Dimensions | 1 Empty |
| Design | Cupholder |
| Material | PP (Polypropylene) |
| Product type | Cup Holder |
| Uses | Cold and Hot Drinks |
| Total capacity | 230 ml |
| Lower diameter | 5 cm |
| Top diameter | 6,1 cm |
| Shape | Cylinder |
| Height | 4,5 cm |
| Family | Monouso |
| Intrastat | 39241000 |
| Recyclable | Yes |
| Reusable | Yes |
| Type | Desechable |
| Packs per Box | 8 |
| Price for | 96 |
| Units per Pack | 12 |
See more
See less
Paper Napkin Double Point Pistachio 40x40cm (50 Units)
Ref 4067-50
50 Units
In Stock