Paper Take-Out Box Large size Kraft 200x100x50mm (375 Units)
375 Units
€143.39
-40%
€86.07
0,230€/Ud
€143.39
-40%
€86.07

(tax incl.)
0,230€/Ud
---
Paper / Cardboard

Rectangular

Yes

Yes

Yes

Yes

375
Paper Take-Out Box Large size Kraft 200x100x50mm (375 Units).
Made of folding cartonboard without any type of coating.
100% plastic free, biodegradable and compostable.
Perfect for serving and shipping snacks such as croquettes, chips, nuggets, among others.
With secure closure. Ideal for use in take away or delivery services.
Monouso® manufacture.
The price is for a box of 375 Units.
See more
With this product also buy
---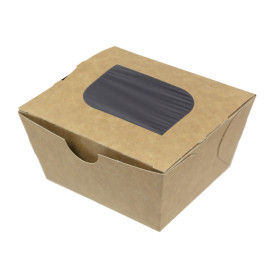 Paper Take-out Container "Premium" 11x10x5,5cm 400ml (25 Units)
Ref 4217-25
25 Units
In Stock
Paper Take-out Container "Premium" 18x12,7x5,5cm 1000ml (25 Units)
Ref 4220-25
25 Units
-30% 13, 16€ Regular price 18,80 €
0,526€/Paper
In Stock
Sandwich Paper Container Kraft 20x10x8cm (25 Units)
Ref 7243-25
25 Units
-20% 7, 54€ Regular price 9,43 €
0,302€/Sandwich
In Stock
---
---
The take away and delivery boxes are perfect for all types of food
---
From sweets such as small croissants, macarons, biscuits, to any savoury food: snacks such as croquettes, nuggets, tequeños, chips to sandwiches, sandwiches and pasties. What kind of food do you usually prepare at your place? Whatever it is, we are sure that, thanks to the versatility of these cartons, they are the perfect solution for your take away or delivery service.
And how can these cardboard boxes solve your delivery service? Quite simply, their simple design adapts to any product without any problem. What's more, we have different sizes in our catalogue so that you can choose the one that best suits your needs, which will allow you to cover an infinite number of products.
Practical, but also sustainable
These disposable boxes are Plastic Free. What does this mean, you ask? Our boxes do not have any type of interior lamination or plastic in their manufacture, which allows the cardboard to absorb the humidity of the food and prevent it from softening, preserving your preparations in perfect condition until they reach the customer.
In addition to this advantage, as they do not contain plastic like other types of packaging, they are biodegradable and compostable, which will allow your customers to dispose of them in the organic container for proper treatment and thus contribute to environmental sustainability.
Safe and easy to transport
Do you want us to tell you another of the great advantages of these take away boxes? Our cardboard boxes will arrive at your business completely folded, so they are perfect for storing anywhere, no matter how small your kitchen is. The assembly system is very simple, when you need them you only have to give them a little push on the side and voilà, ready to send your preparations.
Its flap closure makes it completely secure when transporting food and it opens comfortably thanks to the central cut-out that allows the lid to slide upwards, and its rectangular format means they can be stacked when you prepare your shipment.
---
Can we help you choose the packaging you need?
Choosing the perfect container to ship your preparations can be very complex. After more than a decade in the sector, we know your needs and the characteristics of each of our food packaging.
If you have any questions, do not hesitate to contact us, Monouso customer service will be happy to listen to you and advise you, we are waiting for your call!
| | |
| --- | --- |
| Colour | Kraft |
| Total Dimensions | 20x10x5cm |
| Design | mmm! |
| Material | Paper / Cardboard |
| Product type | Box |
| Certificates | Food Contact |
| Shape | Rectangular |
| Height | 5 cm |
| Width | 10 cm |
| Biodegradable | Yes |
| Compostable | Yes |
| Food Contact | Yes |
| Disposable | Yes |
| Family | Monouso |
| Grammage | 300 g/m² |
| Intrastat | 39241000 |
| Length | 20 cm |
| Recyclable | Yes |
| Type | Containers |
| Packs per Box | 15 |
| Price for | 375 |
| Dimensions | 20x10x5cm |
| Units per Pack | 25 |
See more
See less
Other Sizes
Paper Take-Out Box Large size Kraft 200x100x50mm (375 Units)