Paper Straw Straight Kraft Ø0,6cm 21cm (100 Units)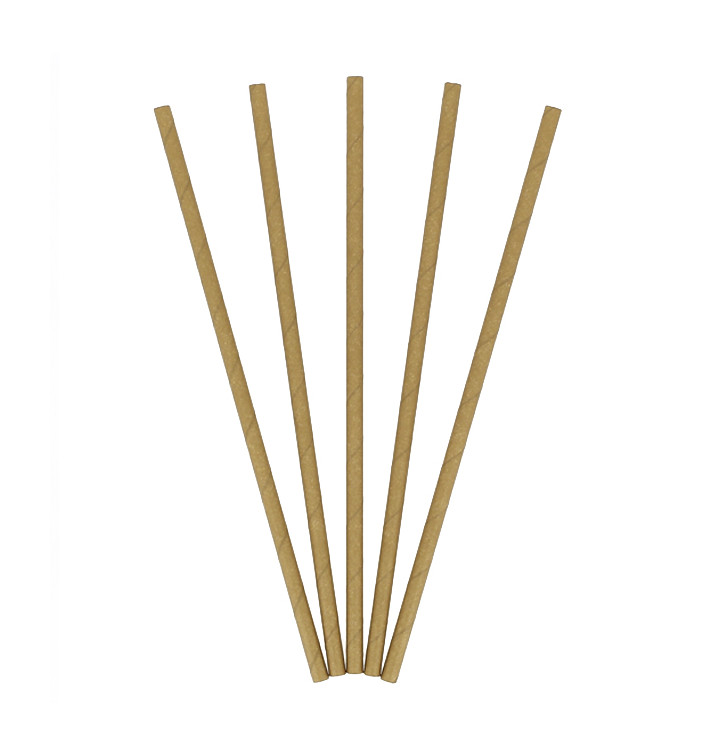  
100 Units
€3.40
0,034€/Ud
€3.40

(tax incl.)
0,034€/Ud
---
Kraft

Elongated

Si

Yes

Yes

Si

100
Straight straw made of kraft paper is used in catering, ice cream parlours and different events or restaurants.
This straw is ideal for presenting and consuming drinks in a modern and sophisticated way.
100% Biodegradable, recyclable and disposable.
Sustainable alternative to traditional straws.
Withstands up to 80º C.
Ideal for the consumption of all types of hot and cold drinks.
The price is for a pack of 100 Units..
See more
---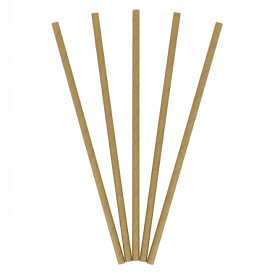 Drinking straws: comfort and style for your customers
Are you looking for a different touch to your drinks and for your customers to enjoy them comfortably? Paper straws are the perfect solution. Not only do they add colour to the decoration of your soft drinks, juices, smoothies and cocktails, but they are also environmentally friendly.
Our grommets are made using paper from sustainable sources. The manufacturing process involves forming a paper tube with a diameter suitable for use as a straw. The paper used in their production is completely safe and suitable for consumption.
However, you may be wondering what the real benefits of using paper straws in your venue are. Let us tell you!
Biodegradable: they decompose naturally under specific conditions and their elements return to nature without causing any environmental damage.
Sustainable: an environmentally friendly alternative to plastic straws.
Highly resistant and safe: designed with the necessary thickness to maintain their rigidity when in contact with liquids, so they will not deform easily.
| | |
| --- | --- |
| Colour | Kraft |
| Total Dimensions | Ø0,6x20cm |
| Design | ECO |
| Material | Kraft |
| Product type | Paper Straw |
| Certificates | Food Contact |
| Diameter | 6 mm |
| Shape | Elongated |
| Biodegradable | Si |
| Compostable | Yes |
| Food Contact | Yes |
| Disposable | Yes |
| Family | Monouso |
| Intrastat | 39241000 |
| Length | 20 cm |
| Recyclable | Si |
| Type | Desechable |
| Packs per Box | 30 |
| Price for | 100 |
| Dimensions (Ø) | Ø0,6x20cm |
| Units per Pack | 100 |
See more
See less
Alternative Products
---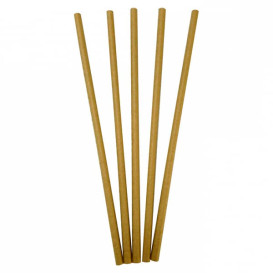 Paper Straw Straight Kraft Ø0,6cm 20cm (100 Units)
Ref 52031-100
100 Units
In Stock
Paper Straw Straight White Ø0,6cm 19,7cm (500 Units)
Ref 9634-500
500 Units
-25% 18, 33€ Regular price 24,44 €
0,037€/Paper
In Stock
Paper Straw Straight White Ø6mm 20cm (250 Units)
Ref 13624-250
250 Units
-25% 6, 97€ Regular price 9,29 €
0,028€/Paper
In Stock