Paper Food Boat Tray Kraft 780ml 15,5x9x5,5cm (25 Units)
€4.46

(tax incl.)
0,179€/Ud
---
Paper / Cardboard

Rectangular

Yes

Yes

Yes

Yes

25
Kraft 780ml tray of 780ml for fried food made of cardboard of 15,5x9x5cm. Also known as open tray for fried food.
Biodegradable and compostable.
Without any type of covering, free of plastic.
Perfect for serving fried, fatty and oily foods.
Ideal for use in take away services, food trucks, fast food, among others.
Monouso® manufacture.
See more
---
---
The Nº1 for serving in your business: kraft trays
---
One of the most popular options in fast food establishments, either to eat on the premises or to consume the food while you are out and about. Without a doubt, kraft trays are the most practical packaging you can find in our extensive catalogue for serving your preparations.
With the possibility of choosing different sizes, this type of packaging is extremely versatile and adapts to all types of food. In particular, the 15,5x9cm tray is ideal for serving a small hamburger with a portion of fries.
They are perfect for any restaurant, and especially for those that offer take away service, such as food trucks.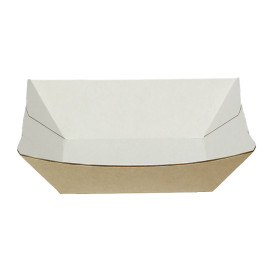 Made from sustainable materials
Kraft trays are made of folding cartonboard, an environmentally friendly material made from cellulose that comes from virgin fibres from forests certified for the responsible management of their resources, so by buying them you are avoiding deforestation and you are taking care of the planet.
In addition, this material is completely safe for food contact.
Plastic-free
Without any type of inner lining, these trays are able to withstand fatty, fried and oily foods thanks to their 250 gr/m² grammage, which gives them superior resistance.
As they do not have any type of lamination, these containers are biodegradable and compostable at an industrial level. The fact that they are compostable does not mean that they can be disposed of anywhere, for proper recycling they must be deposited in the organic container.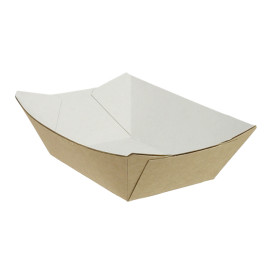 Practical and sturdy design
Its design, with its raised side edges and resistant composition, allows food to be kept and transported to the table without the risk of falling, softening or unexpected dripping, but also allows you to optimise space when storing them as they are stackable.
In addition, their brown kraft colour gives them an organic and natural look, and their white interior makes the food they contain more eye-catching.
---
Can we help you choose the packaging you need?
We know how difficult it can be to choose the perfect packaging for your business. After more than a decade in the sector, we know your needs and the characteristics of each food packaging.
If you have any doubts, Monouso customer service will be delighted to listen to you and help you with any queries you may have.
Colour
Kraft effect
Total Dimensions
15,5x9x5,5cm
Design
MonoUso
Material
Paper / Cardboard
Product type
Boat Tray
Width
9 cm
9 cm
Uses
Fast Food
Total capacity
780 ml
Certificates
Food Contact
Shape
Rectangular
Height
5,5 cm
Biodegradable
Yes
Compostable
Yes
Food Contact
Yes
Disposable
Yes
Family
Monouso
Grammage
240g/m2
Intrastat
39241000
Length
15,5 cm
15,5 cm
Recyclable
Yes
Type
Containers
Packs per Box
18
Price for
25
Dimensions
15,5x9x5,5cm
Dimensions (Ø)
5,5 cm
Units per Pack
25
See more
See less
Other Sizes
Paper Food Boat Tray Kraft 780ml 15,5x9x5,5cm (25 Units)