Paper Cup White 12 Oz/360ml Ø8,9cm (600 Units)
 
12Oz (360ml) capacity white cardboard cup for hot drinks. Disposable cardboard cup made from cellulose from wood fibre harvested from sustainable forests.
Made of 100% recyclable cardboard.
Ideal cup for hot drinks such as coffee or infusions.
With internal PE lamination.
The price is for the Box of 600 Units. 15 Packs of 40 Units.
See more
---
Paper cups: the perfect take away option
Although most people think that their use is limited to coffee cups, in reality you can enjoy them in many other occasions and moments.
You will find them in all sizes and shapes: with or without lids, economical and with a wide variety of designs and colours to serve a good hot coffee or enjoy any cold drink. Thus, paper cups are the most comfortable and versatile option you can find on the market today.
Why should you buy paper cups?
If you have a take away service business, you already know that they are essential for any take away service. And the fact is that paper cups have many advantages:
Made for take away: Your customers will be able to consume their drink comfortably in the establishment or, if they prefer, they can take it with them to have it at any other time. In addition, you can purchase specific lids for the diameter of each glass. A plus in convenience, which will allow you to offer a much more complete service.
Resistant: You will be able to serve your hot coffees or cold drinks without worrying about the material deforming or being too hot or cold, thanks to the good thermal insulation.
Stackable: They are stackable, so you will have no problem storing them in any space.
Sustainable: The perfect alternative to plastic, so we are talking about the present and the future. They are made from cellulose from virgin fibres from forests certified for their responsible management of resources. Therefore, with your purchase, you are avoiding deforestation and are committed to caring for the environment.
---
Recyclable
Recycle this product without any problem once its useful life is over. You only have to pay attention to the material it is made of to know in which container you will have to dispose of it.
Made in Europe
This product is manufactured in Europe within the quality standards set.
With PEFC seal
The PEFC label certifies that our product comes from sustainably managed forests and controlled sources, thus contributing to environmental sustainability.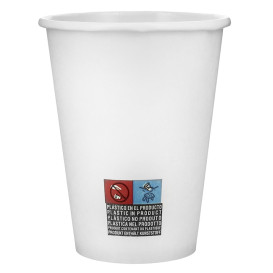 With PE inner lamination
The recyclable cardboard cups have a thin PE coating on the inside for added safety. This material(polyethylene) is a very strong and flexible type of plastic that makes the cardboard waterproof, so that it does not deform or soften when not in contact with liquid.
To give it a second life and recycle it, the consumer must dispose of this PE laminated cup in the cardboard container.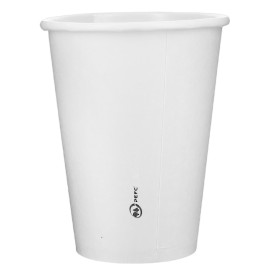 White paper cup: the classic par excellence
The white design is the most popular. Simple and versatile, they are perfect for any establishment, as well as being the ideal companion at an event with all kinds of tableware. By the way, their smooth finish allows you to personalise the glass: you can write the name of your customers, put the label of your establishment, leave a message... Up to you!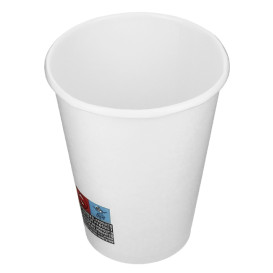 With rolled rim
Our cups have a rolled rim on the top, which will help you to consume the product in a more comfortable and pleasant way. They can also be combined with one of our compatible lids. This way you will have an airtight and safe combo to transport and consume your drink without worrying about leaks or spills.
| | |
| --- | --- |
| Colour | White |
| Total Dimensions | 360 ml |
| Design | TakeAway |
| Material | Paper / Cardboard |
| Product type | Cup |
| Uses | Cold and Hot Drinks |
| Total capacity | 360 ml |
| Certificates | Food Contact |
| Lower diameter | 5,7 cm |
| Top diameter | 8,9 cm |
| Shape | Cylinder |
| Height | 10,9 cm |
| Food Contact | Yes |
| Disposable | Yes |
| Family | Monouso |
| Intrastat | 39241000 |
| Recyclable | Yes |
| Type | Desechable |
| Packs per Box | 15 |
| Price for | 600 |
| Units per Pack | 40 |
See more
See less
Alternative Products
---
Paper Cup White 12Oz/360ml Ø8,0cm (1.100 Units)
Ref 7153-55-20
1100 Units
In Stock
Plastic-Free Paper Cup 12 Oz/360ml White Ø8cm (1.000 Units)
Ref 13399-50-20
1000 Units
In Stock