Foil Pan "9 Cannelloni" 890ml 22,5x15,5x3,6cm (800 Units)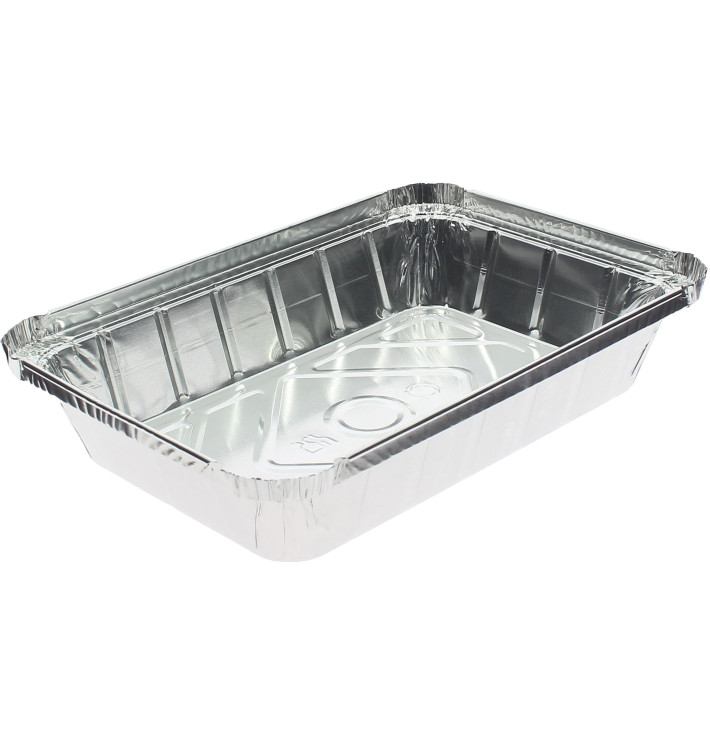  
---
Aluminium

Rectangular

Yes

Yes

800
Aluminium tray of 890ml and 22,5x15,5x3,6cm. Particularly suitable for take-away food
take-away food.
Recyclable and grease/oil resistant.
Temperature range min/max: -20ºC / +380ºC.
Suitable for microwave according to manufacturer's instructions (specified in the description).
Suitable for baking, steaming and grilling.
Compatible with blast freezing and cling film sealing.
Compatible lids available in accessories.
The price is for the Box of 800 Units. 8 Packs of 100 Units.
See more
---
Description: Food container made of aluminium with a capacity of 890 ml. Compatible with sealing. For proper use in the microwave follow the steps below: Remove the lid, heat only one container at a time, place the container in the centre without touching the walls. Compatible with microwave ovens manufactured after 1980.
Applications: Suitable for take-away food transport. Suitable for catering, fast food, take-away food.
Fassungsvermögen: 890 ml.
Farbe: Silber. Material: Aluminium (Al).
Dimensions: Outside: 22,5x15,5 cm.
Inside: 20x13,5 cm.
Base: 17,5x11,5 cm.
Height: 3,6 cm.
Presentation: Box of 800 Units. 8 Packs of 100 Units.
| | |
| --- | --- |
| Colour | Metallized |
| Total Dimensions | 890 ml |
| Design | Delivery |
| Material | Aluminium |
| Product type | Tray |
| Base | 17,5x11,5 cm |
| Total capacity | 890 ml |
| Certificates | Food Contact |
| Shape | Rectangular |
| Height | 3,6 cm |
| Width | 15,8 cm |
| Food Contact | Yes |
| Disposable | Yes |
| Family | Monouso |
| Intrastat | 39241000 |
| Length | 22 cm |
| Recyclable | Yes |
| Type | Envase |
| Packs per Box | 8 |
| Price for | 800 |
| Units per Pack | 100 |
See more
See less
Other Sizes
Foil Pan "9 Cannelloni" 890ml 22,5x15,5x3,6cm (800 Units)
Paper Napkin Double Point Pistachio 40x40cm (50 Units)
Ref 4067-50
50 Units
In Stock