Foil Pan "6 Cannelloni" 590ml 19,1x14,1x3,3cm (100 Units)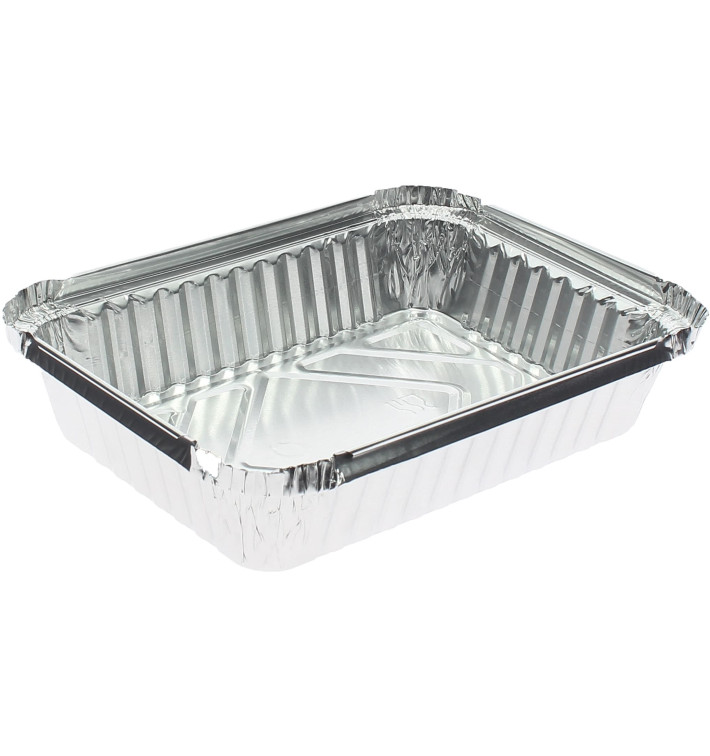  
---
Aluminium

Rectangular

Yes

Yes

100
Aluminium tray 6C of 590ml and 19,1x14,1x3,3cm. Particularly suitable for take-away food
take-away food.
Recyclable and grease/oil resistant.
Temperature range min/max: -20ºC / +380ºC.
Suitable for microwave according to manufacturer's instructions (specified in the description).
Suitable for baking, steaming and grilling.
Compatible with blast freezing and cling film sealing.
Compatible lids available in accessories.
The price is for a Pack of 100 Units.
See more
With this product also buy
---
Lid PLA Clear for Cup Sauce 30ml Ø4,5cm (200 Units)
Ref 9285-200
200 Units
In Stock
Paper Lid for Foil Pan "6 Cannelloni" 590ml (100 Units)
Ref 34011-100
100 Units
In Stock
---
Description: Food container made of aluminium with a capacity of 1000 ml. Compatible with sealing. For proper use in the microwave follow the steps below: Remove the lid, heat only one container at a time, place the container in the centre without touching the walls. Compatible with microwave ovens manufactured after 1980.
Applications: Suitable for take-away food transport. Suitable for catering, fast food, take-away food. Fassungsvermögen: 1000 ml.
Farbe: Silber. Material: Aluminium (Al).
Dimensions: Outside: 19,1x14,1cm.
Inside: 17,5x12,5.
Base: 15,7x10,7 cm.
Height: 3,3 cm.
Presentation: Pack of 100 Units.
| | |
| --- | --- |
| Colour | Metallized |
| Total Dimensions | 590 ml |
| Design | Delivery |
| Material | Aluminium |
| Product type | Tray |
| Total capacity | 590 ml |
| Certificates | Food Contact |
| Shape | Rectangular |
| Height | 3,2 cm |
| Width | 14,4 cm |
| Food Contact | Yes |
| Disposable | Yes |
| Family | Monouso |
| Intrastat | 39241000 |
| Length | 19,5 cm |
| Recyclable | Yes |
| Type | Envase |
| Packs per Box | 10 |
| Price for | 100 |
| Units per Pack | 100 |
See more
See less
Other Sizes
Foil Pan "6 Cannelloni" 590ml 19,1x14,1x3,3cm (100 Units)
Foil Pan "6 Cannelloni" 590ml 19,1x14,1x3,3cm (100 Units)
Ref 34002-100
100 Units
-25% 19, 01€ Regular price 25,35 €
0,190€/Foil
In Stock
Plastic Cup Hard PP 600 ml Transparent (25 Units)
Ref 3013-25
25 Units
-15% 6, 56€ Regular price 7,72 €
0,262€/Plastic
In Stock
Plastic Food Wrap Film PVC 45cmx300m (1 Unit)
Ref 35111-1
1 Units
In Stock