Bowl Reusable Durable PP Mineral Green 2.000ml Ø20cm (36 Units)
36 Units
€146.80
-20%
€117.41
3,261€/Ud
€146.80
-20%
€117.41

(tax incl.)
3,261€/Ud
---
Microwave-safe

Dishwasher-safe

Freezer-safe

Recyclable
Unbreakable bowl of 2l capacity in green colour. Ideal for any kind of food but especially for serving salads. Enjoy it outdoors, at home, in the park, at school or even when travelling.
Made of food grade PP and Micronised Talc. Free of BPA or other toxins.
Premium design and quality that gives an elegant feel to the table.
Scratch and breakage resistant. Almost unbreakable.
Reusable and stackable.
Microwave, freezer and dishwasher safe.
See more
---
Durable PP Mineral bowls - unbreakable and reusable
High quality, durability and resistance all in the same tableware? At Monouso we would like to introduce you to our durable PP Mineral bowls in detail, as they are a revolution in the catering sector due to all the advantages and benefits they can bring to any service. We understand that you are curious about this new material and want to know more about Mineral PP, let's go there!
The Mineral range is the result of the union between a highly resistant polymer such as polypropylene and micronised food-grade talc, a mineral that reduces the consumption of raw materials from fossil sources and, at the same time, increases the hardness, resistance and durability of our products. And its advantages? We tell you about them.
Unbreakable: you read that right, there's nothing that can break them. Our durable PP Mineral bowls resist scratches, falls, knocks and not only that, but also high temperatures without any problems. By choosing our bowls you can forget about the fragile and classic ceramic tableware.
Unique aesthetics: design and durability in one bowl? Yes, of course. PP Mineral bowls have a matt finish that is very similar to any other ceramic plate, so you will no longer have to do without this type of design for your table decoration.
For every occasion, for every event: ensure maximum safety by using our bowls at your events and make a difference. There is no better way to attract the attention of your customers than by providing new and original solutions for the presentation of your preparations.
Practicality in every way: lightweight and stackable, PP Mineral bowls have the perfect design for any occasion, as they are lightweight and easy to stack, which helps to optimise your storage space. All advantages!
Full recycling of the raw materials used: after their long service life, you can easily recycle these bowls in the plastic bin to further contribute to the environment.
---
Microwave-safe
Suitable for use in the microwave. It heats up quickly and safely, as it resists without any problem and does not deform or deteriorate. We recommend checking the technical data sheet for a safe and responsible use.
Dishwasher-safe
Dishwasher safe with the assurance that the product will withstand a minimum number of washing cycles in perfect condition.
Freezer-safe
Suitable for use in the refrigerator or freezer, as our product is perfectly resistant to low temperatures without becoming brittle or degrading.
Recyclable
Recycle this product without any problem once its useful life is over. You only have to pay attention to the material it is made of to know in which container you will have to dispose of it.
| | |
| --- | --- |
| Colour | Green |
| Total Dimensions | 2000 ml / 2 l |
| Design | Mineral |
| Material | PP (Polypropylene) |
| Product type | Bowl |
| Uses | Restaurants and Catering |
| Total capacity | 2000 ml / 2 l |
| Certificates | Food Contact |
| Top diameter | 20 cm |
| Food Contact | Yes |
| Disposable | Yes |
| Family | Monouso |
| Intrastat | 39241000 |
| Recyclable | Yes |
| Type | Desechable |
| Range | Cheap |
| Packs per Box | 36 |
| Price for | 36 |
| Units per Pack | 1 |
See more
See less
Other Sizes
Bowl Reusable Durable PP Mineral Green 2.000ml Ø20cm (36 Units)
---
Ref 13555-1-36
36 Units
117, 41€
3,261€/2000 ml / 2 l
In Stock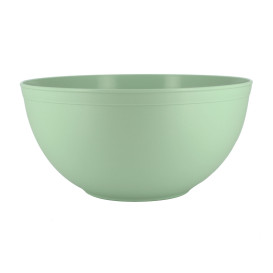 Ref 13556-1-20
20 Units
Out of Stock
Other Colors
Bowl Reusable Durable PP Mineral Green 2.000ml Ø20cm (36 Units)