Bamboo Teaspoon 12cm in box (24 Units)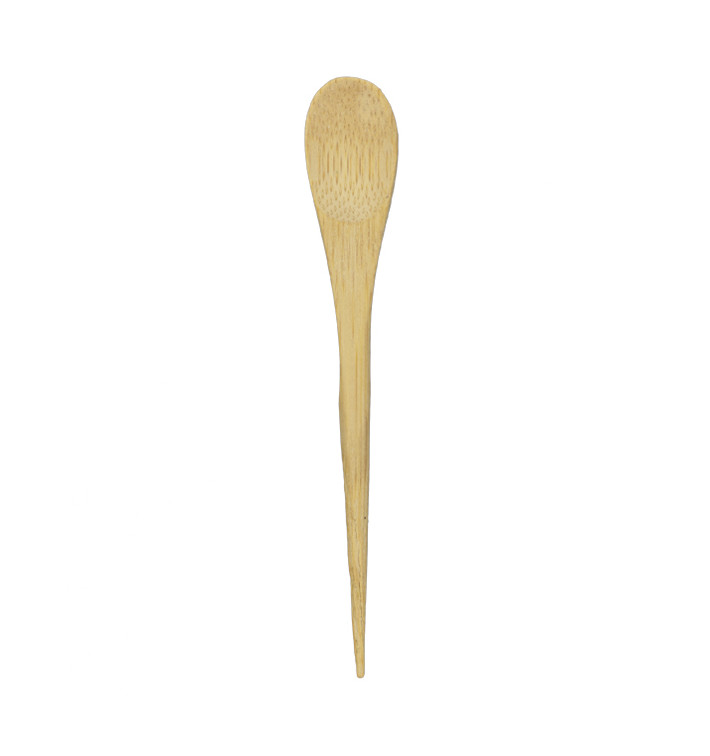  
€5.25

(tax incl.)
0,219€/Ud
Natural bamboo spoon of 12 cm, perfect for desserts.
Biodegradable and recyclable.
Freezer safe. Resistant to oils and fats.
Best choice for hot and cold food.
Ideal for desserts, ice cream and snacks.
See more
---
---
Bamboo dessert spoon: functionality, sustainability and durability
---
Are you looking for a spoon that is disposable and original at the same time? Our bamboo cutlery is the perfect solution for combining elegance, sustainability and durability. You will transform your table into a place of charm and ecological awareness, where every sweet becomes a statement of respect for our planet, all combined with trendiness.
Our bamboo spoon is perfect for enjoying and supporting all your desserts without the risk of bending, breaking or splintering, making every spoonful a unique experience. It has an ergonomic design that facilitates a comfortable grip and will become an after-dinner essential, going beyond functionality.
The most eco-friendly solution for your business
Made of bamboo, 100% natural, rigid and resistant. It is a fast-growing material, making it one of the most sustainable options on the market. Being of natural origin, the spoon offers a cleaner and more hygienic feel.
Don't settle for conventional cutlery! Add a touch of naturalness to your business with 100% biodegradable and compostable cutlery, without any chemical treatment. Become a benchmark in eco-friendly catering, without worrying about its resistance, because bamboo cutlery is designed to withstand your best recipes, whatever they may be.
---
---
Choose Eco spoons
Choosing our bamboo dessert spoons can also be a smart strategy to make your business stand out. Their eye-catching design and commitment to sustainability can attract environmentally conscious customers eager for authentic and responsible products. Dare to make a difference with our bamboo tableware.
Thanks to the distinctive colour and texture of bamboo, you will give your table an ecological touch. Moreover, you will offer your customers the opportunity to contribute to the care of the environment.
Quality disposable tableware
We at Monouso have put all our knowledge and experience into providing you with the best biodegradable tableware. That is why we have carefully chosen this fantastic bamboo spoon to guarantee an exceptional dining experience and to take care of every detail. This spoon not only meets our quality standards, but is also friendly to your wallet and the environment. A winning combination!
---
Can we help you choose the perfect bamboo spoon for your business?
We know how difficult it can be to choose the ideal bamboo cutlery for your business. The products of our brand, Monouso, come with our guarantee; as experts in the field. Our commitment is to the hotel, restaurant and catering industry.
If you have any questions, the Monouso customer service will be happy to listen to you and help you resolve any doubts.
| | |
| --- | --- |
| Colour | Natural |
| Total Dimensions | 12 cm |
| Material | Bamboo |
| Product type | Teaspoon |
| Total capacity | 165 mm |
| Intrastat | 14011000 |
| Length | 16,5 cm |
| Packs per Box | 12 |
| Price for | 24 |
| Units per Pack | 24 |
See more
See less