Paper Napkin "Zigzag" Blue-Red 14x14 (25.000 Units)
 
250 Units
€1.37
0,005€/Ud
25.000 Units
€114.95
-20%
€91.96
0,004€/Ud
€114.95
-20%
€91.96

(tax incl.)
0,004€/Ud
---
Sulphite Paper

Square

Yes

25000
ZIGZAG Paper Napkin with blue or red decoration.
See more
---
Paper napkins sulphite: waterproof and hygienic
In your day-to-day business you will most likely need the ideal wrapping for snacks or pastries to take away. Whether it's to deliver a croissant, protect a sandwich or cover a small snack, paper napkins sulphite will offer you extra protection and also prevent your customers from getting their fingers dirty when enjoying your products.
But how do they offer that extra safety? Because they have a sulphuric acid bath that makes them waterproof. What's more, this special treatment prevents grease from penetrating and deforming them.
Waterproof protection: these napkins acquire waterproof properties, preventing grease from penetrating or deforming them.
Environmental sustainability: as part of our commitment to the environment, these disposable napkins are easily recyclable in the paper bin, as long as they are free of food waste. We actively contribute to taking care of our environment.
Maximum functionality: these napkins are really practical, providing a hygienic and safe solution for food handling in your business. They are easy to use and guarantee a pleasant experience for your customers.
Colour
Blue
Red
Total Dimensions
14x14cm
Design
Classic
Material
Sulphite Paper
Product type
Napkin
Uses
Restaurants, Bakery and Pastry
Shape
Square
Disposable
Yes
Family
Monouso
Intrastat
48183000
Recyclable
Yes
Type
Servilletas y Manteles
Packs per Box
100
Price for
25000
Dimensions
14x14cm
Units per Pack
250
See more
See less
Alternative Products
---
Paper Napkin Sulphite Flat White 15x15cm (30.000 Units)
Ref 9025-750-40
30000 Units
In Stock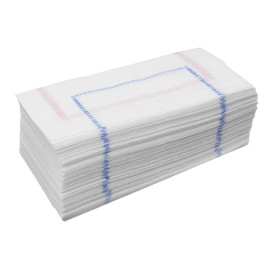 Paper Napkin "Zigzag" Blue-Red 14x14 (250 Units)
Ref 45001-250
250 Units
In Stock